NIDDK Director's Update
Fall 2014
Research Updates
Adults stop anti-rejection drugs after partial stem-cell transplant reverses sickle cell disease: Half of patients in a trial have safely stopped immunosuppressant medication following a modified blood stem-cell transplant for severe sickle cell disease, according to a study in the July 1 issue of the Journal of the American Medical Association. The trial was conducted at the NIH Clinical Research Center in Bethesda, Maryland, by researchers from NIDDK and the National Heart, Lung, and Blood Institute.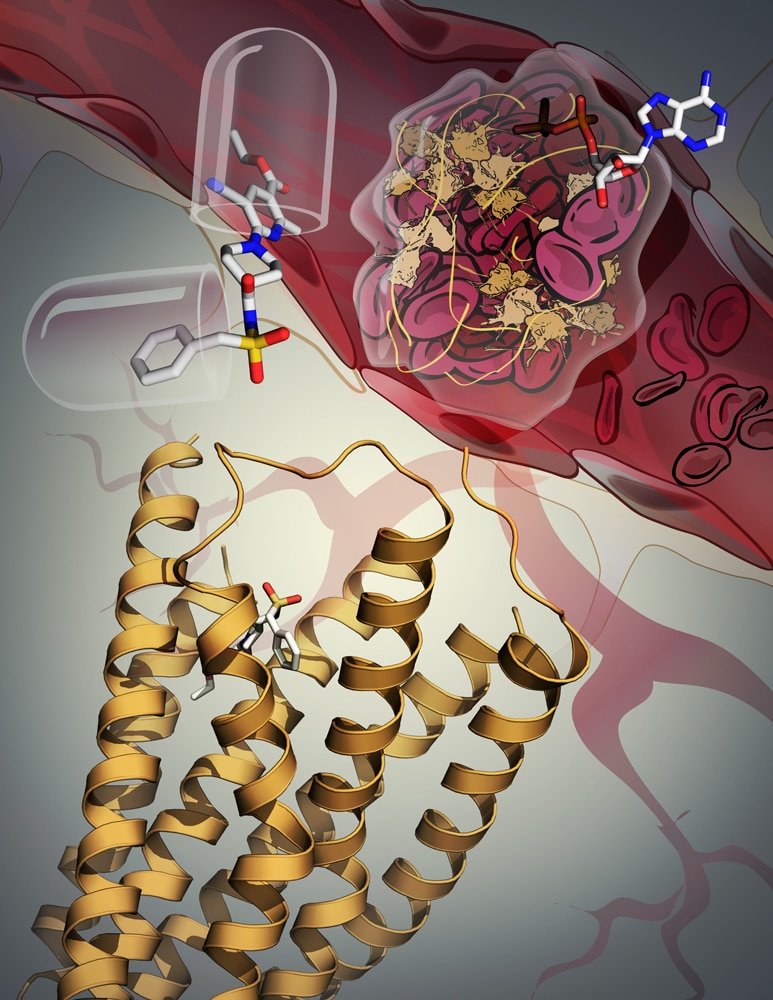 Structure of blood-clotting receptor identified: A team at NIDDK, together with scientists at Scripps Research Institute, Chinese Academy of Sciences and University of Bonn, discovered the 3-D structure of a receptor that plays a key role in blood clotting. The key function of the receptor, named P2Y12, is to communicate with molecules to induce platelet clustering and subsequent formation of a thrombus (blood clot). The study indicates that the P2Y12 receptor's structure undergoes an unusually pronounced rearrangement when the agonist—or, chemical signal from outside the cell—is replaced by an antithrombotic drug.
Bionic pancreas outperforms insulin pump in adults, youth: People with type 1 diabetes who used a bionic pancreas instead of manually monitoring glucose using fingerstick tests and delivering insulin using a pump were more likely to have blood glucose levels consistently within the normal range, with fewer dangerous lows or highs. The full report of the findings, funded by the NIH, published online June 15 in the New England Journal of Medicine.
Acute kidney injury, chronic kidney disease each a risk of the other: Acute kidney injury and chronic kidney disease are closely intertwined, with each disease a risk factor for developing the other and sharing other risk factors in common, as well as sharing causes for the diseases to get worse, and outcomes, suggests a comprehensive analysis by scientists at the NIH and George Washington University Medical Center. Findings published July 3 in the New England Journal of Medicine.
Gene type confers 26 percent chance of early celiac sign by age 5: More than one quarter of children with two copies of a high-risk variant in a specific group of genes develop an early sign of celiac disease called celiac disease autoimmunity by age 5. The findings are from The Environmental Determinants of Diabetes in Youth consortium, or TEDDY. The NIH-funded study, published July 2 in the New England Journal of Medicine, also found that participants in Sweden had higher rates of celiac disease than participants in the United States, Finland and Germany, even with the same genetic risks.
Steroids after surgery do not help infants with rare liver disease: Infants with biliary atresia—a rare liver disease—did not benefit from corticosteroid treatment after bile duct surgery and could face more harm, according to a study funded by the NIH. Results published online May 3 in the Journal of the American Medical Association to coincide with the Pediatric Academic Societies annual meeting.
More than 29 million Americans have diabetes: More than 29 million people in the United States have diabetes, up from the previous estimate of 26 million in 2010, according to a report released by the Centers for Disease Control and Prevention, with collaboration from NIH and other agencies. One in four people with diabetes doesn't know he or she has it.
Drug pair cuts children's urinary infections up to 80 percent: Long-term use of a drug combination reduces the risk of recurrent urinary tract infection by up to 80 percent in children with the urinary condition vesicoureteral reflux compared to placebo, according to research funded by the NIH. Results published online May 4 in the New England Journal of Medicine to coincide with presentation at the Pediatric Academic Societies Annual Meeting in Vancouver, British Columbia.
NIH launches new program to find potential drug targets: With support from NIDDK and other NIH components, researchers will explore poorly understood genes and build an information repository. NIH leaders have announced a new collaborative initiative to improve human health by exploring poorly understood genes that have the potential to be modified by medicines. The effort is part of an NIH Common Fund three-year pilot project called Illuminating the Druggable Genome (IDG). For the initial phase of the program, NIH has allocated $5.8 million to eight institutions and for intramural resources.
Diabetic nephropathy prevention study launches nationwide: Starting this fall, the Preventing Early Renal Function Loss in Diabetes (PERL) trial – the first large trial seeking to prevent progression of early diabetic kidney disease in adults with type 1 diabetes—will be making it easier for potential participants across the country to join the study. Over the next three-plus years, the PERL Consortium (ClinicalTrials.gov No. NCT02017171) will examine the effect of allopurinol—a drug that lowers uric acid and treats gout—to slow or stop kidney function loss in people with type 1 diabetes, thus delaying or preventing kidney disease, a common and debilitating complication of diabetes. The randomized trial is currently recruiting 480 participants with type 1 diabetes. Half will receive allopurinol and half receive a placebo. Study sites are in Colorado, Illinois, Massachusetts, Michigan, Minnesota, Missouri, New York, Denmark and Ontario, Canada. However, beginning this fall, people in the United States and Canada who live far from a site can still participate, with most monitoring done by phone, local labs or doctors' offices and limited site visits. For more information, call toll free at 800-688-5252, ext. 65630, e-mail Perl-T1D@umn.edu or go to their web site.