Beena Akolkar, Ph.D.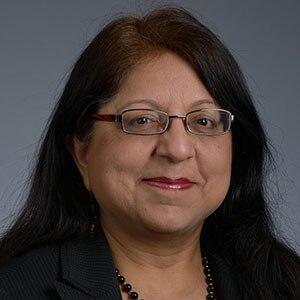 Clinical research in the prevention and immunopathogenesis of Type 1 Diabetes and the genetics and genomics of Type 1 and Type 2 Diabetes
Responsibilities & Activities
I am the program director for the Immunopathogenesis and genetics of Diabetes. My portfolio includes basic and clinical research on the genetics, immunopathogenesis, prevention, and treatment of type 1 diabetes (T1D) and genetics and genomics of type 2 diabetes (T2D).
I am the project scientist for the Environmental Determinants of Diabetes in the Young (TEDDY) study, an international consortium established with the goal of developing and carrying out studies to identify environmental triggers of T1D, such as infectious agents, dietary factors, and/or psychosocial factors, in genetically susceptible individuals.
I am the project scientist for the Accelerating Medicines Partnership in Type 2 Diabetes (AMP-T2D-GENES).
I also serve as a project officer for the NIDDK Central Repositories. My responsibilities also include coordinating research activities on T1D across the NIH.
Committees & Working Groups
Type 1 Diabetes Working Group, Chair
Clinical Advancement based on Research Evidence (CARE) Working Group, Member
Basic Biology, Integrative Physiology Working Group, Member
DK Data Sciences Working Group, Member
DEM Patient Engagement Working Group, Member
NIDDK Clinical Sciences Working Group, Member
TrialNet, Ancillary, Laboratory, and Mechanistic Committees, Member
Immune Tolerance Network Steering and Executive Committee, Member
RADIANT, Genetics, Discovery and Lavoratory Committees, Member
Type 1 Diabetes after Acute Pancreatitis Consoritum (T1DAPC), Immunology and Diabetes Group, Member
Autoimmunity Centers of Excellence Steering Committee, Representative
CSGADP Steering Committee, Representative
Common Data Elements Working Group, Member
NIH Data Access Committee (DAC), Member
Prebiotics and Probiotics Working Group, Representative
Genomics Working Group, Member

Select Experience
Assistant Professor, Medicine and Pathology, NYU School of Medicine, Division of Molecular Medicine, Department of Medicine, North Shore University Hospital, 1996-2000
Instructor, Cell Biology, NYU School of Medicine, Division of Molecular Medicine, Department of Medicine, North Shore University, 1995-1996
Instructor, Department of Medicine, Cornell University Medical College, North Shore University Hospital, 1992-1995
Research Associate, Department of Medicine, Cornell University Medical College, North Shore University Hospital, 1989-1992
Research Associate, Department of Microbiology and Biotechnology Centre, University of Baroda, Baroda, India, 1987-1989