Eating, Diet, & Nutrition for NAFLD & NASH in Children
How can a child's diet help prevent or treat NAFLD?
Eating a healthy diet, limiting portion sizes, and maintaining a healthy weight can help prevent NAFLD in children.
For children with overweight or obesity who have NAFLD, doctors may recommend gradual weight loss. Eating a healthy diet, avoiding beverages that have added sugar, and being more active can help manage weight and improve NAFLD.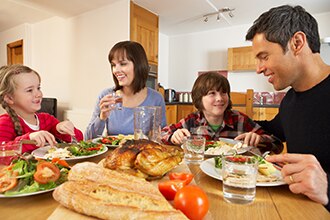 If a child has NAFLD, the parent or caretaker should talk with a doctor about the child's diet. Making sure that children receive proper nutrition is important for growth and development. The doctor may refer the child to a dietitian to help plan a well-balanced diet. Check on the cost of a dietitian's services and whether your health insurance may pay for some or all of these services.
Last Reviewed December 2021