Eating, Diet, & Nutrition for GER & GERD in Infants
What diet changes may improve GER or GERD symptoms in infants?
Talk with a doctor before changing your infant's diet to try to treat GER or GERD symptoms. Depending on an infant's age and symptoms, a doctor may recommend that you
avoid overfeeding or give smaller, more frequent feedings. Follow the doctor's directions to make sure your infant gets the right amount of food each day.
feed your infant thicker food. You child's doctor may recommend adding cereal to formula or stored breast milk to make it thicker. Don't change your infant's food unless a doctor tells you to do so.
remove cow's milk protein from the infant's diet. The symptoms of cow's milk protein allergy are similar to the symptoms of GER and GERD. For infants who are fed formula, doctors may recommend trying a special formula, called hydrolyzed protein formula, for 2 to 4 weeks.8 For infants who are breastfed, doctors may recommend that mothers change their diets to avoid cow's milk protein.
Doctors may recommend additional diet changes for infants who have poor weight gain because of GERD. For example, doctors may recommend a higher-calorie formula or feeding an infant through a feeding tube—a thin, flexible tube that carries liquid food into the stomach or small intestine.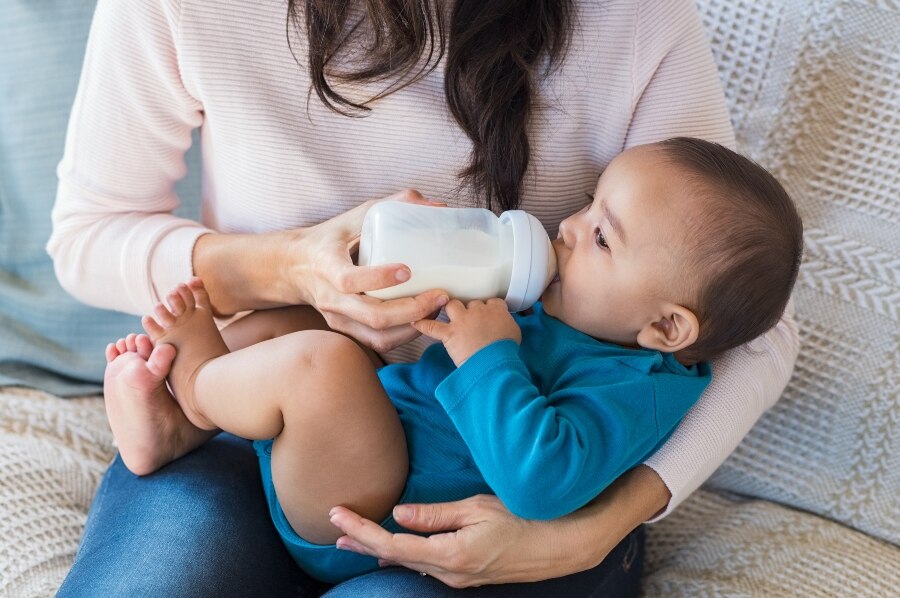 References
[8] Rosen R, Vandenplas Y, Singendonk M, et al. Pediatric gastroesophageal reflux clinical practice guidelines: joint recommendations of the North American Society for Pediatric Gastroenterology, Hepatology, and Nutrition and the European Society for Pediatric Gastroenterology, Hepatology, and Nutrition. Journal of Pediatric Gastroenterology and Nutrition. 2018;66(3):516–554. doi:10.1097/MPG.0000000000001889
Last Reviewed November 2020