Treatment for Overweight & Obesity
In this section:
Common treatments for overweight and obesity include losing weight through healthy eating, being more physically active, and making other changes to your usual habits. Weight-management programs may help some people lose weight or keep from regaining lost weight. Some people who have obesity are unable to lose enough weight to improve their health or are unable to keep from regaining weight. In such cases, a doctor may consider adding other treatments, including weight-loss medicines, weight-loss devices, or bariatric surgery.
Experts recommend losing 5 to 10 percent of your body weight within the first 6 months of treatment. [10] If you weigh 200 pounds, this means losing as little as 10 pounds. Losing 5 to 10 percent of your weight may
Healthy eating plan and regular physical activity
Following a healthy eating plan with fewer calories is often the first step in trying to treat overweight and obesity.
People who are overweight or have obesity should also start regular physical activity when they begin their healthy eating plan. Being active may help you use calories. Regular physical activity may help you stay at a healthy weight.
Learn more about healthy eating and physical activity to lose or maintain weight.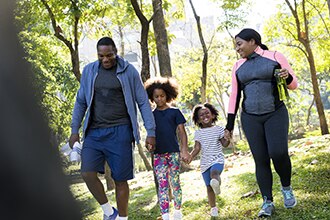 Changing your habits
Changing your eating and physical activity habits and lifestyle is difficult, but with a plan, effort, regular support, and patience, you may be able to lose weight and improve your health. The following tips may help you think about ways to lose weight, engage in regular physical activity, and improve health over the long-term.
Be prepared for setbacks—they are normal. After a setback, like overeating at a family or workplace gathering, try to regroup and focus on getting back to your healthy eating plan as soon as you can. Try to eat only when you're sitting at your dining room or kitchen table. At work, avoid areas where treats may be available. Track your progress using online food or physical activity trackers, such as the Body Weight Planner, that can help you keep track of the foods you eat, your physical activity, and your weight. These tools may help you stick with it and stay motivated.
Set goals. Having specific goals can help you stay on track. Rather than "be more active," set a goal to walk 15 to 30 minutes before work or at lunch on Monday and Friday. If you miss a walk on Monday, pick it up again Tuesday.
Seek support. Ask for help or encouragement from your family, friends, or health care professionals. You can get support in person, through email or texting, or by talking on the phone. You can also join a support group. Specially trained health professionals can help you change your lifestyle.
Weight-management programs
Some people benefit from a formal weight-management program. In a weight-management program, trained weight-management specialists will design a broad plan just for you and help you carry out your plan. Plans include a lower-calorie diet, increased physical activity, and ways to help you change your habits and stick with them. You may work with the specialists on-site (that is, face-to-face) in individual or group sessions. The specialists may contact you regularly by telephone or internet to help support your plan. Devices such as smartphones, pedometers, and accelerometers may help you track how well you are sticking with your plan.
Some people may also benefit from online weight-management programs or commercial weight-loss programs.
Weight-loss medicines
When healthy eating and physical activity habits are not enough, your doctor may prescribe medicines to treat overweight and obesity.
You should try to stick with your healthy eating plan and continue getting regular physical activity while taking weight-loss medicines.
You may see ads for herbal remedies and dietary supplements that claim to help you lose weight. But many of these claims are not true. Some of these supplements can even have serious side effects. Talk with your doctor before taking any over-the-counter herbal remedies or dietary supplements for the purpose of trying to lose weight.
Weight-loss devices
Your doctor may consider weight-loss devices if you haven't been able to lose weight or keep from gaining back any weight you lost with other treatments. Because weight-loss devices have only recently been approved, researchers do not have long-term data on their safety and effectiveness. Weight-loss devices include
Electrical stimulation system. The electrical stimulation system uses a device a surgeon places in your abdomen with laparoscopic surgery. The device blocks nerve activity between your stomach and brain.
Gastric balloon system. For the gastric balloon system, a doctor places one or two balloons in your stomach through a tube that goes in your mouth. Once the balloons are in your stomach, the surgeon fills them with salt water so they take up more space in your stomach and help you feel fuller.
Gastric emptying system. A gastric emptying system uses a pump to drain part of the food from your stomach after a meal. The device includes a tube that goes from the inside of your stomach to the outside of your abdomen. About 20 to 30 minutes after eating, you use the pump to drain the food from your stomach through the tube into the toilet.
Bariatric surgery
Bariatric surgery includes several types of operations that help you lose weight by making changes to your digestive system. Bariatric surgery may be an option if you have extreme obesity and haven't been able to lose enough weight to improve your health or keep from gaining back the weight you lost with other treatments. Bariatric surgery also may be an option at lower levels of obesity if you have serious health problems, such as type 2 diabetes or sleep apnea, related to obesity. Bariatric surgery can improve many of the medical conditions linked to obesity, especially type 2 diabetes.
Special diets
Calorie-restricted diets
Your doctor may recommend a lower-calorie diet such as 1,200 to 1,500 calories a day for women and 1,500 to 1,800 calories a day for men. The calorie level depends on your body weight and physical activity level. A lower calorie diet with a variety of healthy foods will give you the nutrients you need to stay healthy.
Intermittent fasting
Intermittent fasting is another way of reducing food intake that is gaining attention as a strategy for weight loss and health benefits. Alternate-day fasting is one type of intermittent fasting that consists of a "fast day" (eating no calories to one-fourth of caloric needs) alternating with a "fed day," or a day of unrestricted eating. Researchers have conducted only a few studies of intermittent fasting as a strategy for weight loss. They have no long-term data on the safety and effectiveness of intermittent fasting for long-term weight maintenance.
References
Last Reviewed February 2018