Am I at a Healthy Weight?
How can I tell if I am at a healthy weight?
Knowing your body mass index (BMI), waist size, and waist-to-hip ratio can help you tell if you're at a healthy weight.
Body mass index
The BMI is the tool most commonly used to estimate and screen for overweight and obesity in adults. BMI is a measure based on your weight in relation to your height. You can easily calculate your BMI.
Your BMI can tell if you are at a normal or healthy weight, are overweight, or have obesity. The greater your BMI, the greater your risk of health problems such as type 2 diabetes and heart disease.
Normal or healthy weight. A person with a BMI of 18.5 to 24.9 is in the normal or healthy range.
Overweight. A person with a BMI of 25 to 29.9 is considered overweight.
Obesity. A person with a BMI of 30 to 39.9 is considered to have obesity.
Extreme obesity. A person with a BMI of 40 or greater is considered to have extreme obesity.
Because BMI doesn't measure actual body fat, a person who is very muscular, like a bodybuilder, may have a high BMI without having a lot of body fat. Also, some groups who tend to have a lower BMI, such as Asian men and women or older adults, may still have high amounts of body fat even if they are not overweight.
Waist size
Another important measure is your waist size. Having too much fat around your waist may raise your chances of health problems even more than having fat in other parts of your body. Women with a waist size of more than 35 inches and men with a waist size of more than 40 inches may be more likely to develop diseases related to obesity.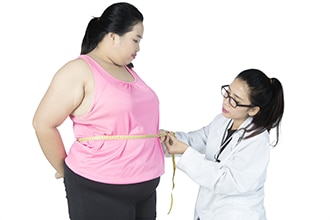 Does my body shape matter?
Doctors are concerned not only with how much body fat you have, but where the fat is located on your body. Women tend to build up fat in their hips and buttocks, giving them a "pear" shape. Men usually build up fat in their abdomen, giving them more of an "apple" shape. Of course, some men are pear-shaped, and some women are apple-shaped.
Extra fat, especially in the abdomen, may put people at risk for certain health problems, even if they have a normal weight. People who are apple-shaped may be more likely to develop type 2 diabetes, heart disease, or certain types of cancer than people of the same weight who are pear-shaped.
When should I seek a doctor's help?
You should seek a doctor's help if you are gaining weight quickly, have a large waist size, or a BMI of 30 or greater. You should also seek a doctor's help if you are overweight or have obesity and have
a family history of certain diseases, such as type 2 diabetes or heart disease
health problems such as type 2 diabetes, heart disease, or metabolic syndrome
Last Reviewed February 2018