NIDDK Director's Update
Spring 2016
News Around NIDDK
Chronic Kidney Disease in Children study marks 10th anniversary
By January W. Payne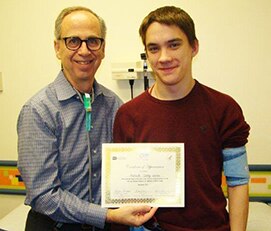 Malachi Gerke, 19, just completed his first semester at the University of Missouri. He also recently accomplished another big milestone: Gerke is one of 75 youth in the Chronic Kidney Disease in Children (CKiD) study who this year will have participated in the landmark project for at least 10 years.
"This is the largest and longest study of children with chronic kidney disease ever conducted in North America," said Dr. Marva Moxey-Mims, deputy director for clinical science in the NIDDK Division of Kidney, Urologic, and Hematologic Diseases. "The study has provided information that just was not available before about what happens to these kids as their disease progresses."
Chronic kidney disease (CKD) in children is increasing worldwide, according to a CKiD review published in the American Journal of Kidney Diseases in 2012. The CKiD study recruited 891 children ages 1-16 years old to identify risk factors for progression of CKD and cardiovascular disease. It also looks at the effects of CKD on factors unique to children, such as growth and neurocognitive development.
Gerke was 9 when he enrolled in CKiD after his parents heard about the study from pediatric nephrologist and CKiD co-principal investigator Dr. Bradley Warady at Children's Mercy Hospital in Kansas City, Missouri. Even at that age, Gerke understood that by participating he was helping other kids. He once told his mother, "Well, they may stick me with needles more, but if it helps other kids, I'll do it."
The willingness of Gerke, his family and others to contribute to medical research has been integral in gathering a wealth of new knowledge about CKD in children. For example, investigators learned that how fast kidney disease progresses can vary depending on the underlying medical condition. CKiD findings have also shown that starting treatment at an early age is key to a longer, healthier life for these children.
Most children with CKD were born with the underlying condition that caused their kidney disease, and those children's CKD tends to progress more slowly than those who have glomerular disease or another type of acquired illness.
Because the researchers closely follow CKiD participants over time, they have found some problems that otherwise may have gone unnoticed and untreated. "We've learned, for example, that a lot of these kids who look like they have good blood pressure control have masked hypertension. This means that their blood pressure is normal when you check it in the office, but when they wear a 24-hour blood pressure monitor, you see their blood pressure goes up and down," Moxey-Mims said.
Indeed, Gerke and his parents credit CKiD with helping him to better manage his health overall. "The 24-hour blood pressure cuff the study required he wear identified that he actually had high blood pressure during his sleeping hours. We never would have noticed that without the study," said Gerke's mother, Susan Edmondson-Gerke. "So we have been able to treat it and protect him from other issues that could affect his health in the future."
Gerke would participate in another medical research study if given the opportunity, and he would advise others to do the same, he said. "Study participation benefits others, and it's a very easy process."
Getting to know: Dr. Robert Karp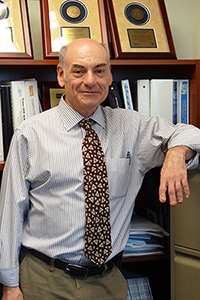 Robert Karp, Ph.D., is the program director for Genetics and Genomics in the NIDDK Division of Digestive Diseases and Nutrition. He oversees grants supporting genomic studies related to obesity, gastrointestinal diseases, liver and pancreatic diseases, and nutrition, as well as leads NIDDK's efforts to understand the role of the microbiome, the collection of microbes that live in and on the human body, in diseases within NIDDK's mission. He spoke with Amy F. Reiter about the rapidly changing field of genetics and its potential for improving human health.
What interested you in biomedical research, specifically genetics?
By the time I was in college, molecular biology was a fairly well developed field. It had become possible to understand the biology of a simple organism, such as a bacterium, by looking at molecules. That idea was totally fascinating to me. Then, when I was in graduate school, the recombinant DNA revolution was happening, and I was right there in its midst. This revolution permitted us to study the biology of more complex organisms, up to humans, at the molecular level, which had previously been possible only for very simple organisms. I trained originally as a fruit fly geneticist.
What brought you to NIH?
After serving briefly as a junior faculty member in the Department of Biology at SUNY/Albany, I received the opportunity to work at the National Science Foundation in their genetics program, and from there came to NIH. The discipline of genetics has certain basic, core-concept principles that apply to all organisms. Identifying the genes influencing a disease often leads to the discovery of physiological pathways not previously known to have a role in the disease. These discoveries provide novel opportunities for intervention to prevent or treat the disease. In many cases these discoveries can be made only by using genetic approaches.
How did your perspective change when you went from your lab to NSF and then managing grants at NIH?
What drew me to, and what has kept me at NIH is the opportunity to help steer the course for the research we support on the complex diseases within our mission. Here, I get to help move the field forward on a larger scale than I ever could have done from my small academic laboratory. When I made the transition from my own lab, first to NSF and then to NIH, my scientific horizons and perspectives just exploded. I got a much broader concept of what was going on in science.
What is the achievement you've made at NIH you're most proud of thus far, and what is a research goal you hope to help achieve?
I've managed our Inflammatory Bowel Disease Genetics Consortium since its beginning, and the work I did getting that consortium up and running was challenging. It required getting a group of highly independent, brilliant scientists to work closely with each other. The consortium is still going strong after 13 years and making all kinds of important discoveries. An ultimate goal would be for the genetic discoveries that have emerged from the consortium to lead to new treatments or prevention for IBD.
What advice would you give to people interested in a career in genetics?
To become a geneticist today, it is crucial to train in wet lab research, as well as computational biology. Research now requires more complex mathematics to sort through the data. Science is still a great career. It has become more difficult to do it than it has been in the past, but it remains essential for our society.
Rodgers takes part in National Wear Red Day to prevent heart disease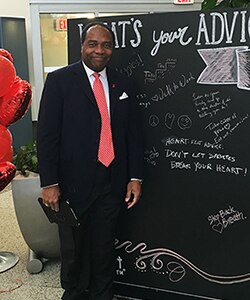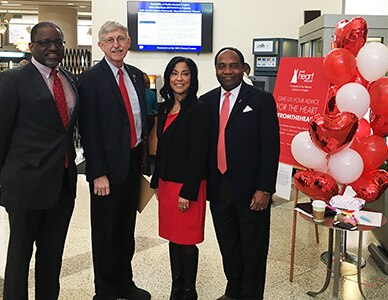 On February 5, NIDDK Director Dr. Griffin P. Rodgers joined fellow NIH leaders in commemorating National Wear Red Day, part of American Heart Month. Along with colleagues, study participants and others gathered for the event in the NIH's Clinical Center, he composed a heart-disease prevention message on a chalkboard for sharing via social media. "Heart-felt advice—don't let diabetes break your heart!" Rodgers wrote. Pictured from left: Dr. Gary Gibbons, director of the National Heart, Lung, and Blood Institute; NIH Director Dr. Francis Collins; Dr. Jeanine Austin Clayton, director of the NIH Office of Research on Women's Health; and Rodgers.
NIDDK annual report available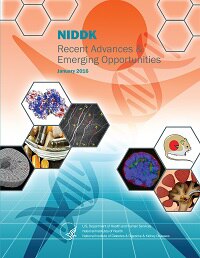 The NIDDK annual scientific report, NIDDK Recent Advances & Emerging Opportunities, is now available. This report highlights selected NIDDK-supported research advances published in fiscal year 2015. It also includes personal stories of patients, stories of discovery that trace research progress in specific areas over an extended time frame, and scientific presentations made to the NIDDK's National Advisory Council during the past year.
The report also contains overviews of several NIDDK-supported scientific workshops; features the inaugural event of the new "Friends of NIDDK" coalition; outlines NIDDK's involvement in new NIH Common Fund programs, the 4D Nucleome and the Stimulating Peripheral Activity to Relieve Conditions (SPARC) programs; highlights a Senate hearing on type 1 diabetes research at which Dr. Rodgers testified; and describes a technological partnership between NIDDK and the U.S. Department of Agriculture leading to an enhanced web-based tool that can help people achieve and maintain a healthy weight.
Download the report.
Diabetes Prevention Program Outcomes Study launches new phase to study CVD, cancer outcomes
By Amy F. Reiter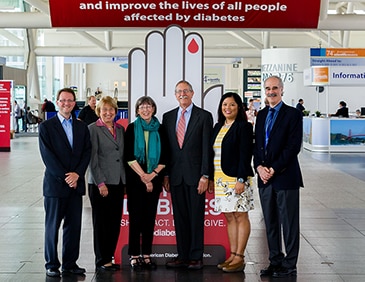 The landmark Diabetes Prevention Program and its Outcomes Study (DPP/DPPOS) showed that lifestyle changes and metformin, respectively, could delay or prevent the onset of type 2 diabetes in people at high risk for the disease. And now, decades later, the study is still steering the course for uncharted territory.
In February, the NIH began funding a new, third phase of DPPOS—proposed to last 10 years—to find out if starting metformin during prediabetes—as opposed to waiting until the onset of type 2 diabetes—leads to lower rates of cardiovascular disease and cancer. Several earlier, small-scale studies have suggested that metformin may protect against CVD and some forms of cancer. Among the DPP participants, one group received metformin for prediabetes. Another group, the former DPP's placebo/control group, only received metformin if indicated for treatment of diabetes.
"Cardiovascular events such as heart attack and stroke are among the leading and most frequently fatal complications from diabetes," said Dr. Barbara Linder, the project scientist for DPPOS in NIDDK's Division of Diabetes, Endocrinology and Metabolic Diseases. "This research could help find an accessible and inexpensive way to reduce those events and the deaths that often follow."
Nearly 2,800 of the original DPP participants continue to take part in DPPOS. Study participants are now an average 67 years old, approaching an age when incidences of cardiovascular diseases and cancer increase substantially. The study's researchers have collected data on cardiovascular events and other measures related to diabetes and its complications since the study began, and will continue to examine the long-term effects of the original intervention.
Led by NIDDK, this phase of DPPOS (ClinicalTrials.gov number NCT00038727) is also funded by several other institutes and offices within the NIH and the Centers for Disease Control and Prevention and with support in the form of supplies from Merck KGaA.