Hematuria (Blood in the Urine)
On this page:
What is hematuria?
Hematuria means there is blood in your urine. The two types of hematuria are
gross hematuria—when you can see the blood in your urine
microscopic hematuria—when you cannot see the blood in your urine, but it can be seen under a microscope or is found using a urine test called a urinalysis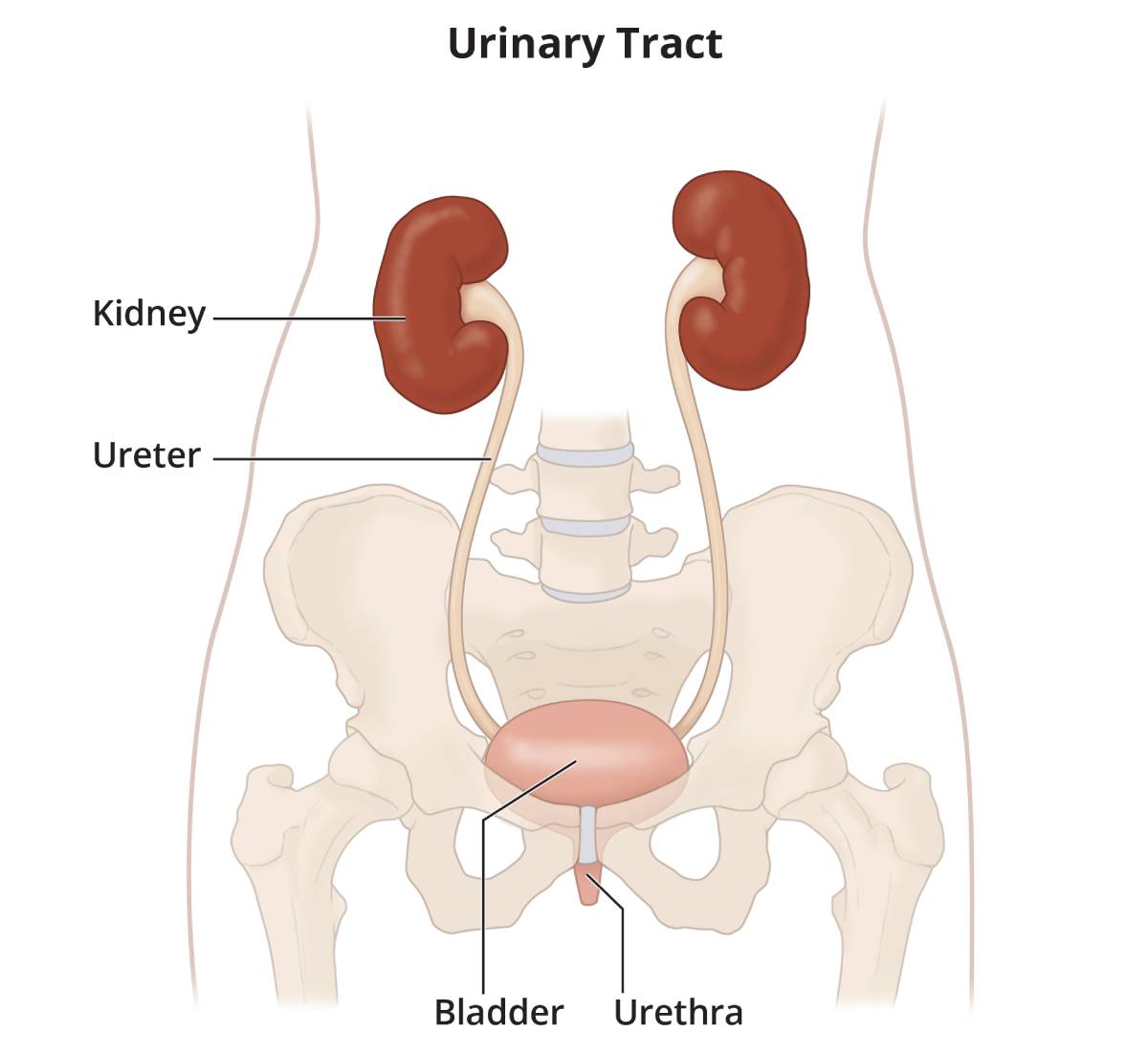 How common is hematuria?
Hematuria is a common diagnosis in individuals who visit a urologist. Researchers estimate that at least 1 out of 5 people evaluated by a urologist is diagnosed with hematuria.1 Gross hematuria is less common than microscopic hematuria.2
Who is more likely to develop hematuria?
You are more likely to develop hematuria if you
What are the symptoms of hematuria?
Gross hematuria makes your urine look pink, red, or brown. Though the color difference may be alarming, it only takes a small amount of blood in the urine to cause a color change. In most cases, gross hematuria does not cause pain or other symptoms. However, you may have bladder or back pain if there are blood clots in your urine. Blood clots can be painful to pass during urination or can cause pain if the clots block the flow of urine.
Microscopic hematuria does not change the color of urine and typically has no symptoms.
What causes hematuria?
Reasons people may have blood in the urine include
More serious reasons people may have hematuria include
blood-clotting disorders, such as hemophilia
kidney disease involving the glomeruli
How do health care professionals diagnose hematuria?
Health care professionals use your medical history, a physical exam, and urinalysis to diagnose hematuria and help find the cause. As part of the physical exam, your health care professional may perform a digital rectal exam if you're a man, or a pelvic exam if you're a woman.
Your health care professional may also order additional tests, such as urinary tract imaging tests, to help find the cause of your hematuria.
Urinalysis
Your health care professional will use urinalysis—or a urine test—to check a sample of your urine for blood. In some cases, your health care professional will test your urine again to confirm the diagnosis of hematuria.
Sometimes blood from a woman's menstrual period can get into the urine sample, and the test can show that the woman has hematuria when she doesn't. Women who test positive for hematuria and are menstruating at the time of the test may be asked to repeat the test after menstruation stops.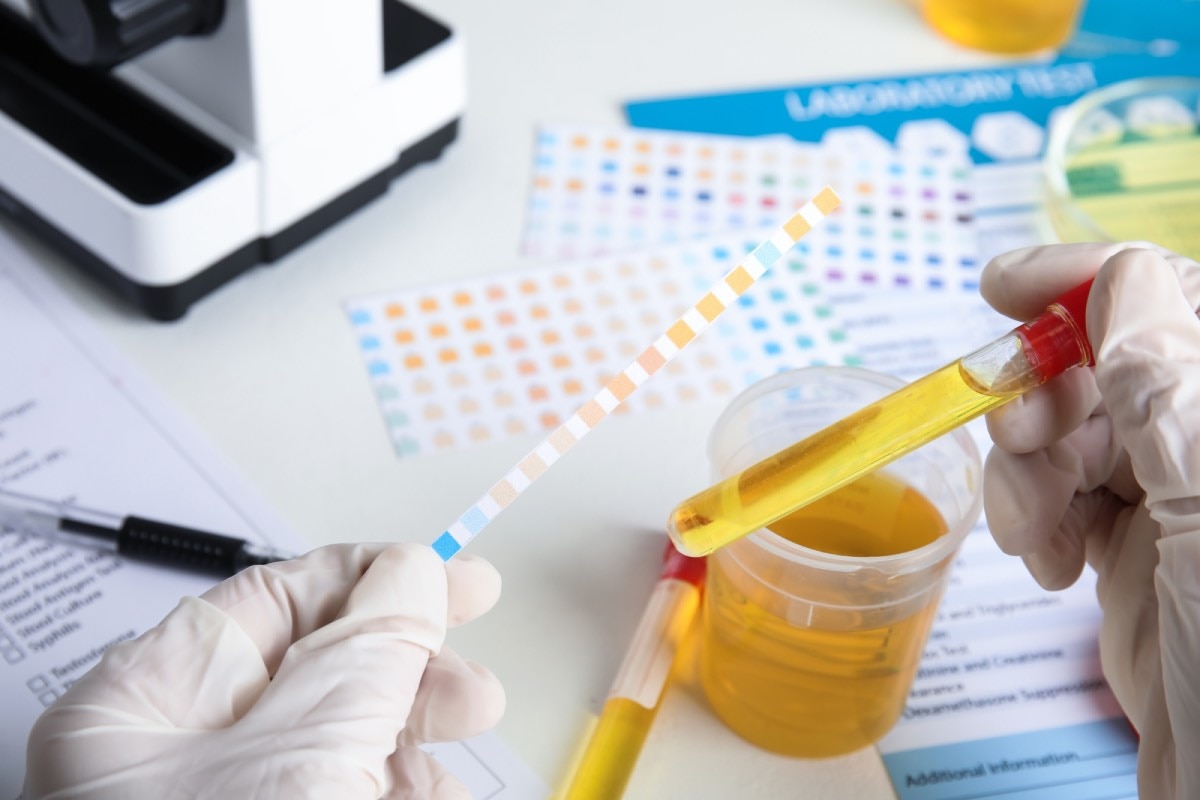 Additional testing
If urinalysis shows too many red blood cells in your urine, your health care professional may order one or more of the following tests
Blood test is used to find out if you have problems with your kidneys or to detect signs of autoimmune diseases, such as lupus, or other diseases, such as prostate cancer.
Computed tomography (CT) scan uses a combination of x-rays and computer technology to create images of the urinary tract.
Cystoscopy is a procedure that uses a cystoscope—a long, thin instrument with a camera attached—to look inside the urethra and bladder.
Kidney biopsy is a procedure in which a health care professional takes one or more tiny pieces of tissue from the kidney, and a pathologist examines the tissue samples under a microscope for signs of kidney damage or disease.
Magnetic resonance imaging (MRI) uses magnets and radio waves, without using x-rays, to make pictures of internal organs, such as the bladder or kidney.
Ultrasound uses sound waves, without using x-rays, to create an image of internal organs, such as the kidney.
How do health care professionals treat hematuria?
Health care professionals treat hematuria by treating the underlying cause of the hematuria. You may not need treatment if there is no serious condition causing your hematuria.
How do eating, diet, and nutrition affect hematuria?
Researchers have not found that eating, diet, and nutrition play a role in causing or preventing hematuria.
Clinical Trials for Hematuria
The NIDDK conducts and supports clinical trials in many diseases and conditions, including urologic diseases. The trials look to find new ways to prevent, detect, or treat disease and improve quality of life.
What are clinical trials for hematuria?
Clinical trials—and other types of clinical studies—are part of medical research and involve people like you. When you volunteer to take part in a clinical study, you help health care professionals and researchers learn more about disease and improve health care for people in the future.
Researchers are studying many aspects of hematuria, such as
the accuracy of different diagnostic methods to detect bladder cancer in people with hematuria
how using blood thinners before surgical procedures involving the bladder or prostate can affect the presence and severity of hematuria after surgery
less invasive treatments for managing conditions associated with hematuria
new ways to diagnose and treat glomerular kidney disease
Find out if clinical studies are right for you.
Watch a video of NIDDK Director Dr. Griffin P. Rodgers explaining the importance of participating in clinical trials.
What clinical studies for hematuria are looking for participants?
You can view a filtered list of clinical studies on hematuria that are open and recruiting at www.ClinicalTrials.gov. You can expand or narrow the list to include clinical studies from industry, universities, and individuals; however, the National Institutes of Health does not review these studies and cannot ensure they are safe. Always talk with your health care provider before you participate in a clinical study.
References
Last Reviewed October 2022